Boston Greenfest
2017sun13aug1:45 pmsun3:45 pmBoston Greenfest1:45 pm - 3:45 pm 4 S Market St, Boston, MA 02109
Event Details

Envision a world with ample, affordable, and healthy food for everyone on the planet, where our local farmers and fishermen have access to insights from spacecraft, wireless networks, and machine learning to help make better decisions. This forum showcases the transformative impact of technology on agriculture and aquaculture, taking better care of our crops and animals, informing and engaging consumers, strengthening our societies, and radically rethinking how to feed the planet. Join the conversation to learn what our future looks like, the impact of local startups with global reach, and the important role you can play. Our engaging panel of world-renowned academic leaders, technology entrepreneurs, and researchers will lead a discussion on new agricultural practices, innovations from around the world, and tech businesses here in Boston.

At the upcoming Boston GreenFest, OPEN is leading a session on GreenTech Trends exploring the growing resource challenges for our burgeoning population and the solutions technology may offer.  The session will be hosted by Adil Najam, Dean, The Frederick S. Pardee School of Global Studies.

Boston GreenFest runs from August 11-13 in City Hall Plaza and Faneuil Hall and all events are free.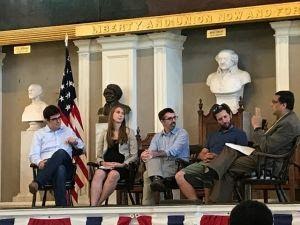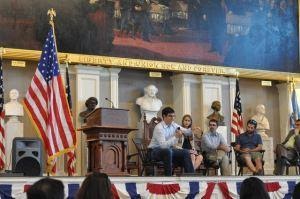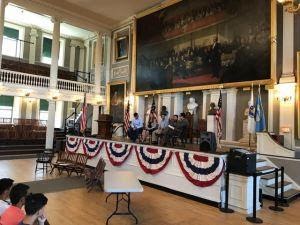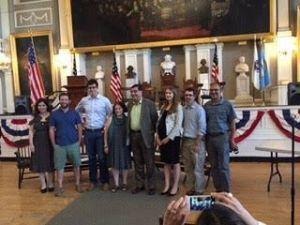 Speakers for this event
Adil Najam

Adil Najam

Dean, Boston University - Frederick S. Pardee School of Global Studies, Board of Directors at The Citizens Foundation

Dean, Boston University - Frederick S. Pardee School of Global Studies, Board of Directors at The Citizens Foundation

David Potere

David Potere

co-founder and CEO of TellusLabs,

David Potere is the co-founder and CEO of TellusLabs, a Boston-based startup that combines decades of satellite imagery with a machine learning platform to answer critical, time-sensitive economic and environmental questions. David co-founded Boston Consulting Group's global data science practice. At TellusLabs, David is combining his love of satellite remote sensing with nearly a decade of practical experience addressing the geospatial and data-driven questions of the Fortune 500. Prior to BCG, David served as a Surface Warfare Officer in the US Navy. He received an AB from Harvard College, an MA in satellite remote sensing from Boston University, and a PhD in geo-demography from Princeton.

co-founder and CEO of TellusLabs,

Jared Auerbach

Jared Auerbach

Owner & CEO, Red's Best

Jared, originally from Newton, MA, worked on commercial vessels in Alaska and Cape Cod during the early 2000's after he finished college. Working alongside hardworking fishermen, Jared saw how the advent of industrial technology and strict governmental regulation of open oceans impacted traditional fishing communities and family fishing businesses. He first-handedly witnessed their struggle for survival.
Jared also saw the quality, abundance, and vast variety of species available in New England's pristine cold waters. He notes, "Even early in my fishing career, I saw a misalignment of supply and demand in the seafood industry. Small vessels landing in New England are literally bringing in the best fish in the world, yet they are struggling to make a living. Meanwhile, less superior fish is being imported into the US in massive amounts. It didn't make sense. And all the while, local fish seemed really hard to find as an everyday consumer. Something needed to change."
In 2006, Jared founded Red's Best envisioning a brand that would represent each and every fisherman and the pride of the profession. He set out to create a way to create efficiency in government reporting and to make it easier for consumers to have direct access to the freshest seafood while helping to sustain the livelihoods of American fishermen.

Owner & CEO, Red's Best

Megan Sheahan

Megan Sheahan

Director of Operations at Precision Agriculture for Development

Megan Sheahan is the Director of Operations at Precision Agriculture for Development. Previously, she held research, research management, project management, and technical assistance roles at Cornell University, the Famine Early Warning Systems Network (FEWS NET), and Chemonics International and has worked as a consultant for various organizations, including the World Bank and African Development Bank. She holds an M.S. in Agricultural Economics from Michigan State University and a B.A. in Economics and International Relations from Boston University.

Director of Operations at Precision Agriculture for Development